There comes a time in your life when you have to think about whether or not you want to become an entrepreneur. Well, today I'm going to share with you a simply answer as of why (if you are thinking this way) it's not a good idea for you to become an entrepreneur.
Why You Should Not Become An Entrepreneur
I personally have been becoming and learning how to become an effective entrepreneurs for a couple of years now. In my personal experience I have to say that becoming an entrepreneur it's not easy. However, once you have figured out and have gather the necessary knowledge, then being an entrepreneur it's quite easy.
Know that you will face many obstacles when you are in the pursuit of your entrepreneurship path. There will be people who will literally laugh at your goals and dreams. Others will tell you that you are not being realistic. There are those who will tell you to "wake up" and go back to your regular job. Now, I'm not bashing anyone who has a job by the way. We all have to do, what we have to do. As a matter of fact most people who become entrepreneurs, they do so because they are sick and tired for working for someone else. If that's you, then this is for you.
Alright, I'm getting a little of the point here. In the video below, I talk about the one reason why you shouldn't become an entrepreneur. Watch the video all the way to the end, and then comment below with your thoughts.
To learn more about how to market and grow your business online go here or simply check out the training below.
THE TOP EARNER FRAMEWORK?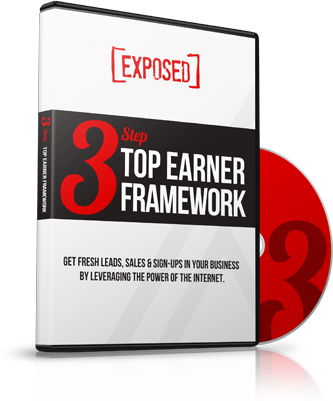 FINALLY Unlock the 3-Step Framework and Learn How to Get Fresh Leads, Sales & Sign-Ups in YOUR Business Leveraging the Power of the Internet.
P.S. Have you checked out a movie called "The Rise Of The Entrepreneur" by Eric Worre yet? If not, I encourage you to watch it here.